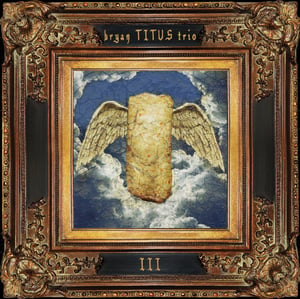 $

10.00
Drawing from the Classics: Rock, Motown, Folk, & Bluegrass bryan TITUS trio delivers 6 new songs about finding common ground, love over money, a sweet tooth, advanced poker techniques, an immaculate burrito, and a story inspired by his grandparents.
Released May 13, 2017
BRYAN TITUS vocal, guitar, mandolin, violin, percussion
JEFF KRANZLER upright bass, percussion, vocal
DUSTIN JANSON cajon, vocal, percussion
ALL SONGS WRITTEN BY BRYAN TITUS
Produced by bT3o. Recorded & engineered by Jeff Kranzler at HAL Studios, Santa Barbara CA. Cajon recorded at Walter Claudio, Santa Barbara CA. Mastered by Sean Ingoldsby at Real Time Studios, Ojai CA.
For streaming tracks from the album please check out bryantitus.bandcamp.com